I've been hard at work on my mystery novel, "Barely a Spark", and I'm in chapter 18 right now. I think I'm about half way through, maybe a little less. But that means it's hard to find time to blog. So here I am, late at night, dropping you a quick note so you don't think I've forgotten my readers.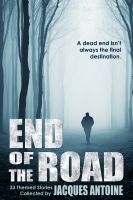 SUMMER SPLASH BLOG HOP
Couple of things of note that I need to mention. The Summer Splash Blog Hop is coming up July 26th to July 29th. Are you ready? Hope so! Keep watching for prize updates!
END OF THE ROAD
31 authors, 33 stories, multiple genres. "End of the Road" is a collection of short stories written by some very well-known writers as well as some relative new-comers (like me). I hope you will enjoy each and every tale about 'the end of the road'. Grab it now at
Smashwords
, it's FREE! [soon to be on Amazon as well]
TH-TH-TH-THAT'S ALL FOLKS!